18 Apr

CHRIS 180's Legacy of Women Supporting Women

Throughout the course of history, women have often been underestimated, underrepresented and excluded from opportunities to advance personally and professionally. Despite this, women have excelled in every area of life and contributed to political, cultural and social progress worldwide. Some of the most well-known women today had to conquer numerous obstacles and create their own seat at the table. In fact, CHRIS 180 would not exist today without its founding organization, The Junior League of Atlanta, Inc. In 1981, the group of purpose-driven women saw a need to create a safe, stable environment for youth in the foster care system.

Now, more than 40 years later, CHRIS 180's foundation of women in leadership continues to be alive and well.

Although they come from different backgrounds, Marilyn Whitely-Carter, Susan O'Farrell and Mona Harty have at least two things in common: they all love CHRIS 180, and each of these accomplished women have served as the chair of CHRIS 180's Board of Directors.
Women Supporting Women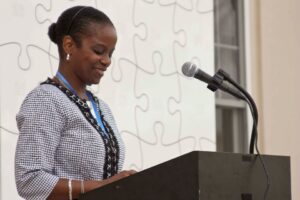 The success of these women was not only the outcome of their hard work, but also owed to the encouragement and backing of other women within the organization. In 1999, Whitley-Carter commenced her advocacy for foster children as the first Black Board Chair of CHRIS 180. She embarked on her journey almost three decades ago, when she was recommended for the position on the Board of Directors by a female colleague. Even with her many accomplishments, she faced some self-doubt and fears, like many women starting new roles experience. CHRIS 180's President and CEO, Kathy Colbenson, LMFT, had confidence in her that she could rise to the occasion. Just a few words of encouragement can be the driving force women need to take a leap of faith.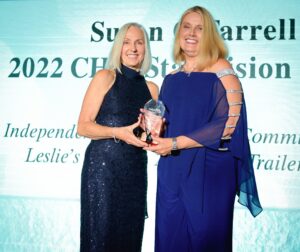 O'Farrell, a leader among her peers, first became associated with CHRIS 180 in 2011 through Leadership Atlanta, one of the oldest sustained community leadership programs in the nation. She joined CHRIS 180's Advisory Council and then became a member of the Board of Directors. Subsequently, she became Chair of the Board and currently is a Co-Chair of the Advisory Council. An advocate for the LGBTQ+ community and a proponent of women in leadership, she understands the importance of embracing other women and helping them reach their highest potential. During her time on the board, she also mentored members who were entering new levels of leadership in their careers. In 2022, O'Farrell was honored with the CHRIStal Vision Award at CHRIS 180's largest fundraiser, The CHRIStal Ball. When asked about the importance of having women represented in leadership, O'Farrell said, "The women we encourage today will be the women that we celebrate and will lead us tomorrow."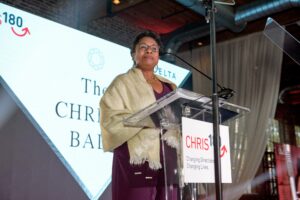 Speaking of mentorship, former board chair Mona Harty says being supported by board members while going through changes at work was an added bonus to becoming involved. Harty initially became a part of CHRIS 180's family through her role on the board of an adoption organization that merged with CHRIS Kids. She served in a variety of ways as chair of the Governance Committee, Vice Chair, Board of Directors Chair and now Advisory Council Member. Harty says she has come to appreciate the compassion of the wider community and acknowledges the network of individuals and businesses who are contributing towards building a more resilient society. 
The volunteer leaders of CHRIS 180 are not just making an impact on the lives of children, adults and families daily, but also on each other. The strength of women lies in their ability to uplift, mentor and support one another during challenges. Built on the foundation of women's work over many years, CHRIS 180 is proud to provide environments where staff members and volunteers can fulfill their purpose to improve their lives, their communities and support other women's growth. 
Briyanna Ferguson is the Marketing & Communications Coordinator at CHRIS 180. She can be reached at [email protected]